Business Process Management enhances the effectiveness of your employees.
BPM gives you a software based process management that relieves you of the stress of going around to get approvals.
Workflow Management Software
With business processes controlling a large number of intricate relationships and interacting with various business systems, companies require an easy way to make their processes better. These processes are difficult to manage in human resources, finance, compliance, and other business functions, due to some factors.
Information and approvals are impeded from maneuvering through departments easily by Paper-based processes and business system silos.
Insufficient IT (internal or outsourced) resources encumbered by complicated system installations that are time intensive and need frequent trouble-shooting and a constant assault of help desk requests.
Business problems that are not easy to diagnose. When a problem is perceived from diverse views by stakeholders, coupled with the often-changing nature of the description and scope of the problem, prescribing a solution through a traditional linear process is oftentimes not feasible.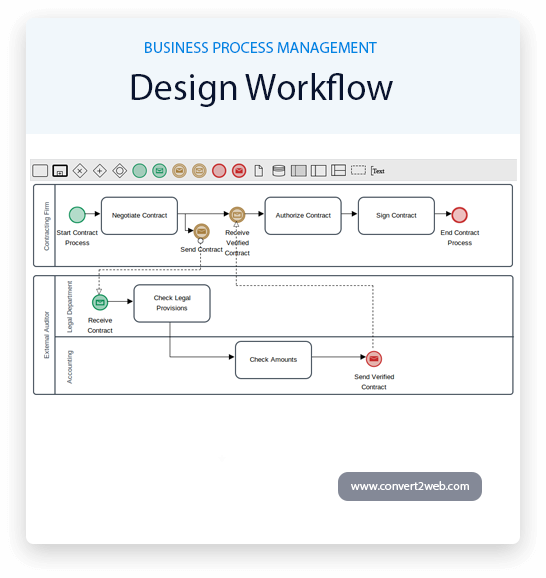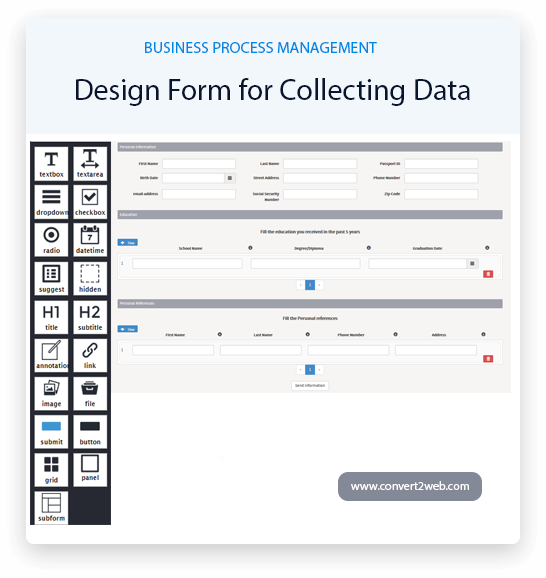 Easy Design Form
Workflow and BPM enables workers in organizations that must process and manage a huge workload of requests as part of their job do it efficiently and swiftly.
Effective and result-oriented communication and resolution of requests with and from various departments and customers. Processes are automated and paperwork is reduced by web-based, form-driven processes and graphical drag-and-drop workflow maps, allowing business users to complete their tasks swiftly and effectively.
Increased efficient use of IT staff. Simple deployment and development translates to technology managers quickly getting the software up and running without spending unnecessary time with complicated and ineffective installations. Established workflows can be created and modified by business managers, translating to changes being completed fast with minimal use of IT.
Steady improvement of business processes. Built for an adaptive approach, where technology and business managers work together to focus on problem processes for effecting positive changes in the bigger stream of business processes. We propose the automated workflows which are consistent, repeatable, and measurable, so processes can be refined steadily and made to work flawlessly under new conditions.
The workflow management software can be installed and utilized easily:

Build
A spontaneous, drag-and-drop workspace makes modelling approval-based workflows a breeze for business analysts.

Report
Plans are available to managers to enable them make knowledgeable decisions.

Run
Form-driven processes can be effortlessly accomplished by business owners by the way of automated notifications and a web-based interface offline or online across different devices.

Optimize
Performance can be steadily and positively improved by managers and analysts through the discovery of cumbersome processes and inefficiencies.
Users Dashboard
Public and private organizations can automate document intensive and approval-based processes across departments and systems using the workflow management software. Workflows can be managed and designed by business users and process experts with no programming experience.
The following benefits can be derived from its usage:
Minimal paperwork
Efficient use of resources
Enhanced business results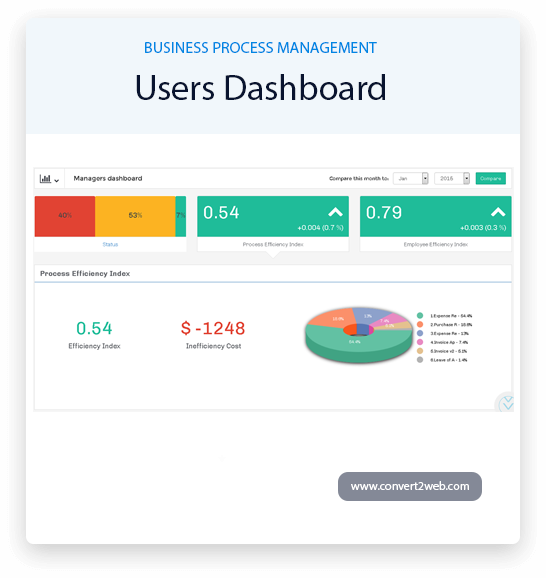 Enterprise Features
The performance and functionality of BPM that we propose for your company can be elongated and improved by the following list of Enterprise features. The Enterprise features are part of different Enterprise Subscription Plans.
We provide the Business Rules in BPM software to develop the rules outside the premises of their processes, making it much easier to develop and maintain complex business logic. This level of abstraction gives process designers the opportunity to assign business rule maintenance tasks to an analyst that only needs to understand the logic of the business rules and does not need to have an in-depth grasp of the whole business process.
We efficiently and reliably automate your processes and increase your efficiency by implementing a BPM solution, having a way of measuring the amount of improvement that you've made is a good idea. The state-of-the-art dashboards afford users, administrators and managers that functionality.
Custom Case gives an admin the functionality of setting up custom column views in a user's cases boxes (inbox, draft, sent, etc.). Information obtained from report tables or forms can be displayed in the columns, making the inbox experience of more use and relevance to the user.
Large caseloads can be archived by administrators by the way of using the case archive, giving room for effective maintenance and audit controls. The feature also makes sure that old cases can be offloaded by large scale implementations from the main inbox, to ensure high scale speed. Cases can be restored to user inboxes at any time by the administrator.
Process administrators can set specific Service Level Agreements in processes, using SLA. These SLAs can be set on a task, across multiple tasks, or across a full process. Non-conforming processes where SLAs have not been met are shown by reports. Drill downs give supervisors the permission to carry out a forensic analysis to know the exact causes of low performing processes to fix the root cause.
BPM allows the LDAP to synchronize with an LDAP or Active Directory Server for authentication, groups, and pass through authentication from Windows Domain Controller. Manage your users and groups from one application.
We provide the luxury of Multitenancy Management in BPM software, this gives administrators the wherewithal to manage the server and every workspace that is installed on it. Administrators can view the access log for all workspaces here, control connections and setup new workspaces on the server. This feature allows a company to host "n" number of process management and workspaces on a single server.
Data Reporting Tool is a reporting framework built from scratch which allows users to create reports with built-in security models, perform joins on multiple data sets and core application tables, and export reports to excel and PDF.
Enhance Your Organization's Efficiency
Regardless of type BPM you are using, it's important to reduce the overall complexity of the environment by using a single, integrated platform flexible enough to orchestrate any type of process, open enough to integrate easily with other applications, and robust enough to start small and scale to handle large volumes.