What Is Project Management?
Project management is the application of knowledge, skills, tools, and techniques to project tasks in order to reach a project goal.
Project & Time Management
It's important for each project and consultancy operation to have control of all phases – from planning, implementation and time registration through to finance. Convert2Web provides you with an all-in-one, intelligent solution for managing all of your projects, both in the office and from the road.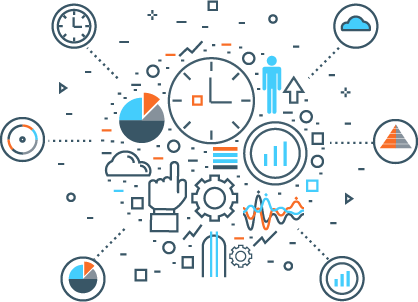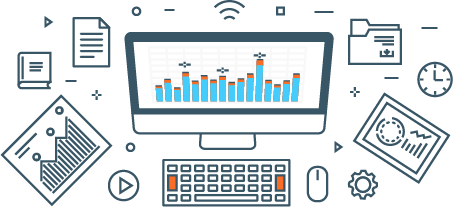 Full project overview from start to finish
Convert2Web allows you to easily plan project implementation from A to Z, assign tasks, manage rights and invite any number of participants to take part in projects. All projects are automatically assigned a project number when created, so that all incomings and outgoings for the project can be linked and tracked against that number.

---
Use your resources properly
---
After the project is created and the project plan is fully set-up in the system, the project planner gives a complete overview of progress, status and tasks. In the resource planner you can add participants and allocate resources for the execution of tasks.

---
Keep everyone in the team continuously updated
---
Convert2Web allows you to communicate effectively in your projects from any device, via the project wall. All project participants can receive continuous mobile notifications when messages are posted on the wall.
Convert2Web also allows you to connect e-mail directly to your projects.

---
Effective document sharing
---
By utilizing file management during your projects you have access to all your documents, all the time, wherever you are. Each individual project has its own document area in which you can share and work with project-related documents.
Flexible and efficient time registration
Project managers can create a number of categories, products and services – anything from hourly rates to transport, equipment and materials – and this means that employees can easily record the same. Plus, it can all be done from a laptop, tablet or smart phone – from in the office or out.
Each user has a full overview of his or her active projects, the most recent projects they have spent time on, and the projects they have been invited to or which have been added by the project manager.
Users can, of course, create new projects directly from their mobiles (or any device for that matter).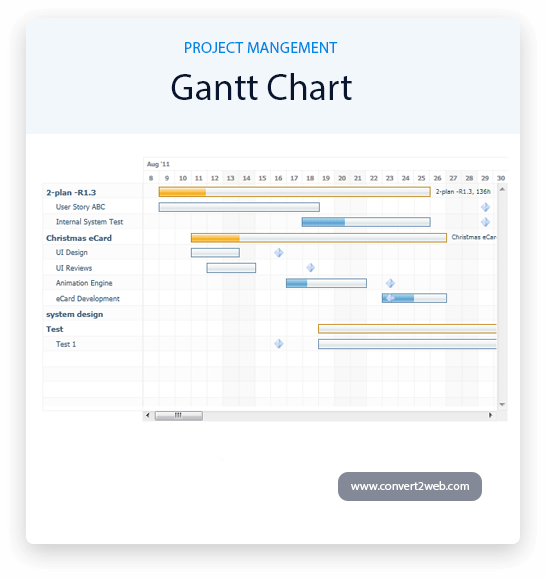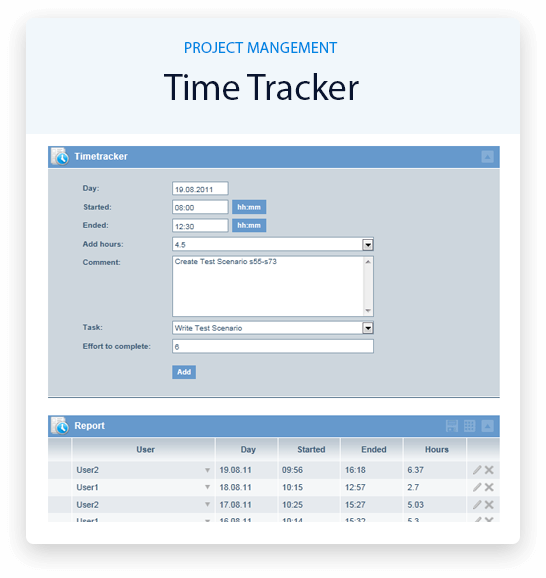 Full control of project finances
Project managers remain consistently up-to-date on both finances and progress within the project.
Since all data is recorded continuously, delays in billing from incomplete information regarding tasks being performed are avoided. As soon as all participants in a project have set their status to «completed», the project manager automatically has all figures and data needed to invoice the customer.
It is up to you whether you want to send invoices electronically, as PDFs or in print invoice format.
Create a project plan even though the task-level details are still vague. Have your employees work on their area of expertise and your project will seamlessly come together in the middle.
Control your work packages graphically. Change the user interface to how you want it to be. Experience a streamlined overview of, and access to, your process, people and products via the analytical and illustrative project breakdown structure.
Create a project baseline and compare this with the forecasts of your virtual teams. Keep a handle on your milestones and always know how your project is progressing. This system is designed for simplicity, ease of use and encourages teamwork!
Schedule your projects with innovative project scheduling tools. You can create work packages, define dependencies, allocate resources, and more. Changes are quick and easy to make via click-and-drag within Gantt charts.
View the status of multiple projects instantly through the Project Dashboard. This tracking system features milestones and simple charts for quick status reports and early warning red flags.
Record time spent on tasks, enter estimated time to complete tasks, and update project statuses, all in real time. Track time via iPhones, BlackBerrys, or Androids, in networks or online.
Manage Different Project Types
Think with Graphical Work Breakdown Structure
Customize Perspectives for Planning, Controlling, Reporting and Others
Use Top-Down and/or Bottom-Up Planning Strategically
Define Teams, Assign Roles and Engage Project Staff
Manage Project Portfolios and View Project Breakdown Structures
Analyze with Graphical Indicator
Manage through Integrated Reports
Gain insight via Dashboard
The project list gives you a full overview of the finances and status of all projects, all in one place. You can even customize your reports and get a full overview of sales revenue, profit, contribution margin, contribution-to-sales ratio etc.